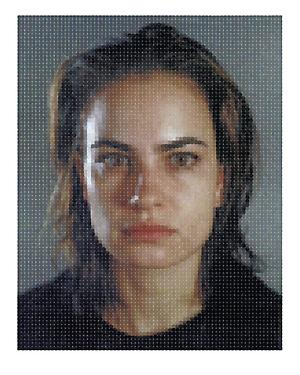 Chuck Close - Inka, 2012
Archival watercolor pigment print on Hahnemühle rag paper, 75 x 60 in. Edition of 3
"Chuck Close: Important Works on Paper from the Past Forty Years" opens tonight at
John Berggruen Gallery
in San Francisco from
5:30 – 7:30 PM
.
The watercolor prints in "Important Works on Paper" were printed and published by Magnolia Editions; the exhibition also provides an opportunity to see
Close
's well-known tapestry portrait of
Brad Pitt
, as well as the debut of a project
Close
and Magnolia have been proofing for several years involving an innovative ceramic tile technique.
Chuck Close - Brad, 2009
Jacquard tapestry, 104 x 78 in. Edition of 10
The
gallery website
notes:
This exhibition focuses on several bodies of Close's extensive oeuvre: rare drawings from the 1970s, important early prints, Polaroid maquettes, and two bodies of recent work, watercolor prints and felt hand stamps... Among the highlights of Chuck Close include an impression of Close's first print of his career, Keith, which he produced at Crown Point Press, here in San Francisco, in 1972. Other highlights include three drawings from the 1970s whose intimate scale demonstrate both Close's technical mastery as well as express the conceptual foundations of his grid-based compositions.

Close's relationship to photography and the historical innovation inherent in its usage is explored in Self-Portrait (Maquette) as the viewer witnesses the beginning of what will become a visual relationship between technology (the Polaroid) and painting. The watercolor prints and felt hand stamps each introduce a new technique; together, the two create a new conversation between the digital and the analogue, between the human and the mechanical.
This show marks the artist's second solo exhibition at the gallery and the first since 1999, and will be on view through
November 2, 2013
.
We hope to see you at the opening reception tonight!